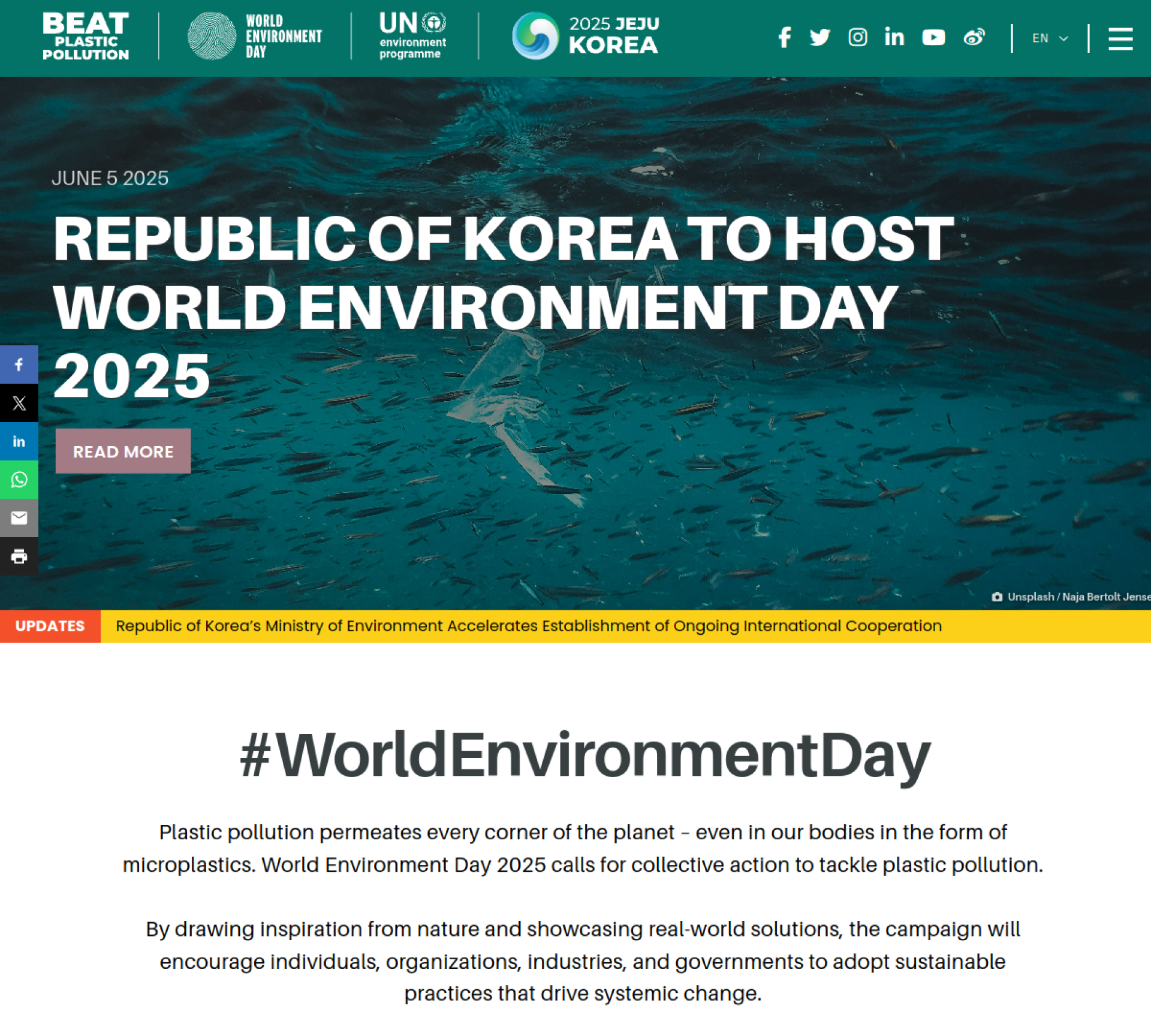 World Environment Day on 5 June is the biggest international day for the environment. Led by the United Nations Environment Programme (UNEP) and held annually since 1973, the event has grown to be the largest global platform for environmental outreach, with millions of people from across the world engaging to protect the planet.
DRIVING FIVE DECADES OF ENVIRONMENTAL ACTION
Since 1973, World Environment Day has developed into a global platform for raising environmental awareness and acting on urgent planetary issues.
HISTORY
World Environment Day puts a global spotlight on the pressing environmental challenges of our times. This UN international day has become the largest global platform for environmental outreach, with millions of people from across the world engaging to protect the planet.
2021
The focus for World Environment Day 2021 was Ecosystem Restoration celebrated under the theme "Reimagine. Recreate. Restore". For too long, humanity has been exploiting and destroying the planet's ecosystems. Every three seconds, the world loses enough forest to cover a football pitch and, over the last century, half of all wetlands have been destroyed. As much as 50 per cent of coral reefs have already been lost and up to 90 per cent could be lost by 2050, even if global warming is limited to an increase of 1.5°C. The Day in 2021 was hosted by Pakistan.
2020
In 2020, the World Environment Day theme focused on biodiversity – a concern both urgent and existential. The day was hosted by Colombia. Against the backdrop of the COVID-19 crisis – caused by the rapid destruction of habitats – President Iván Duque Márquez said "the time to act is now if we want to assure our present and our future." Fourteen world leaders – including those from Colombia, Costa Rica, Finland, France and Seychelles – released a statement calling on governments worldwide to support a new global goal to protect at least 30 per cent of the planet's land and ocean by 2030.
2019
The 2019 theme was air pollution, a global emergency that causes around 7 million premature deaths every year. Hosted by China, President Xi Jinping stressed China's willingness to share its experience with other countries in a letter to the 2019 World Environment Day event. The country also launched its Air Quality Improvement Report (2013-2018) to showcase successful policies and reflect on lessons learned.
2018
India hosted the 45th celebration of World Environment Day under the theme "Beat Plastic Pollution." Over 6,000 people gathered at Versova Beach in Mumbai to join UN Environment Champion of the Earth, Afroz Shah, in a beach clean-up, where they collected over 90,000 kg of plastic. The Indian government made a bold commitment to ban all single-use plastics—which makes up 70 per cent of marine litter—by 2022 and European Union lawmakers agreed on a ban by 2025.
2017
"I'm with nature" is the theme of World Environment Day 2017, which inspires more than 1,800 events, from tree-planting in Mumbai to ivory burning in Angola to a running race through Brazil's Iguaçu National Park. In host country Canada, Prime Minister Justin Trudeau joins UN Environment Programme's Erik Solheim to connect with nature by paddling kayaks along the Niagara River.
Get Involved RESOURCES
Below you will find assets, resources, social media challenge details and other material to get you started!
TRELLO BOARD
Find, posters, social media assets and more. This will be updated regularly.
Twitter Tag
#worldenvironmentday #environment #nature #environmentday #gogreen #climatechange #earth #world #india #fornature #green #saveearth #ecofriendly #biodiversity #savetheplanet #photography #naturephotography #life #sustainability #trees #recycle #saveenvironment #tree #wildlife #planttrees #save #plantatree #covid #sustainableliving #naturelovers #treeplantation #timefornature #june #environmentalawareness #savetheenvironment #pollution #plant #environmentallyfriendly #globalwarming #diamundialdelmedioambiente #greenplanet #savetheearth #greenary #environmentalsustainability #zerowaste #savenature #ig #greenrevolution #environmentalist #ngo #sustainable #environmentaldevelopment #earthday #love #challenge #airpollution #climatechangeisreal #thjune #environmental